THE LEGENDARY BIG BEAR RUN
EARLY ROUTE
PINS
PHOTOS
WINNERS
ARTICLES
LATER ROUTE


The early, point-to-point enduraces races of the twenties and thirties are the root of modern desert racing. The first Big Bear Run was 1921. In the 40s and early 50s, it started at the Saugus Cafe and finished in Big Bear. In those days, you could choose your own route. One year, the winner rode south around the San Gabriel mountains rather than up through Lucerne! Del Kuhn, the 1950 National Enduro Champ and three-time winner of the Greenhorn Enduro, won Big Bear in 1952. Aub LeBard won three years in a row: 1949, 1950 and 1951! Some of these early races were put on by the old Three Point Club. Sometime in the 50s, Orange County MC laid out courses with loops and checkpoints from the Soggy Dry Lake area to Fawnskin via Rattlesnake Canyon. In at least one of those years, the route included Means Dry Lake, Giant Rock and Pioneer Town before heading up Burns Canyon to Lake Baldwin and then Fawnskin. Bud Ekins won in 1954, and was leading the 1955 race until his carburetor iced up. Remember Steve McQueen jumping the fence in The Great Escape? That was stunt man Bud Ekins on a stock Triumph! Bud was the desert hot shoe in the 50s, and won several ISDT gold medals. That's him below carrying the #1 plate through the snow. 530 entered that year, but only 119 finished, and one of them was a 48-year old speedway champion named Wilbur "Lammy" Lamoreaux on a 200cc Triumph Cub! He won the 200cc class, of course, but was way ahead of everything under 500cc! The last Big Bear Run was in 1960, and ran from Lucerne to Fawnskin and back to Lucerne. Eddie Mulder won that one on a 500 Royal Enfield thumper...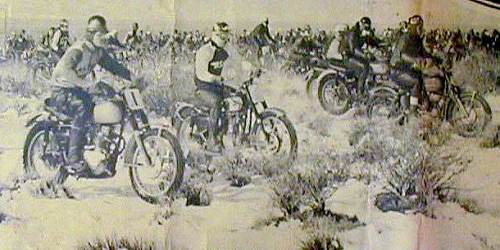 Bud Ekins led the '56 Big Bear until his carburetor iced up...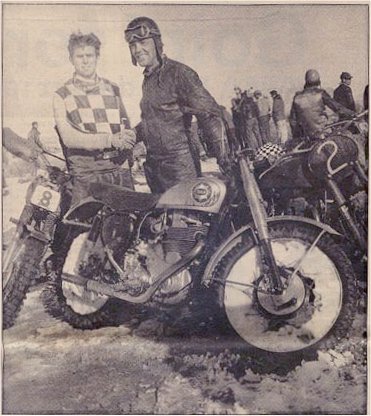 Roy Burke (right) was leading when snow
ended the race at Old Woman Springs...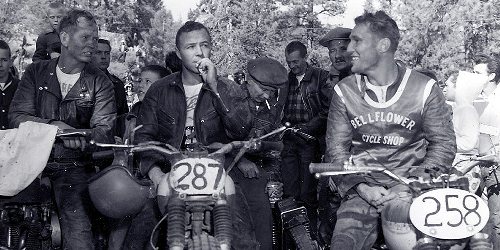 Buck Smith (3rd), Charles Hockie (2nd), Roger White (1st)
Thanks to the following old timers, who made it possible to approximate both the original and later courses, document many of the top finishers and display pictures of one of the oldest point-to-point desert races!

Paul Flanders, District 37's Dual Sport Referee, who remembers the original race started in Saugus at midnight on New Years Eve!

Aub LeBard of LeBard & Underwood Honda, who sent me a detailed map of the Saugus to Fawnskin course, and won this race three times!

Joe Meyer, member of the Big Bear Trail Riders Club, who contributed results from his copies of Motorcyclist magazine...

Harley Pace, who remembers his first Big Bear ending in a bomb crater on Means Dry Lake!

Mike Patrick, #1 in 1966 & 1969 and 1X in 1970, who remembers Rattlesnake Canyon...

Thumper, riding an AJS "popper", remembers the 1955 or 56 race starting north of Soggy, going past Big Rock for a check point, then to Pioneer town for another check (and a beer or two!) then back to the Y Cafe in Lucerne for another check and two gallons of gas for 50 cents! Then the race headed up the hill on fire roads to Lake Baldwin, and finished out of town near Fawnskin.

Page York of York Cycles, Big Bear, who finished many Big Bear Runs, and was active in motorcycles well into his 90s!

David Margay, who contributed results, photos and stories of this classic desert race

Walt Harper, 7th overall in the 1949 Big Bear, contributed results for 1948, 1949 and 1956-1960 Big Bear Run...